Facilities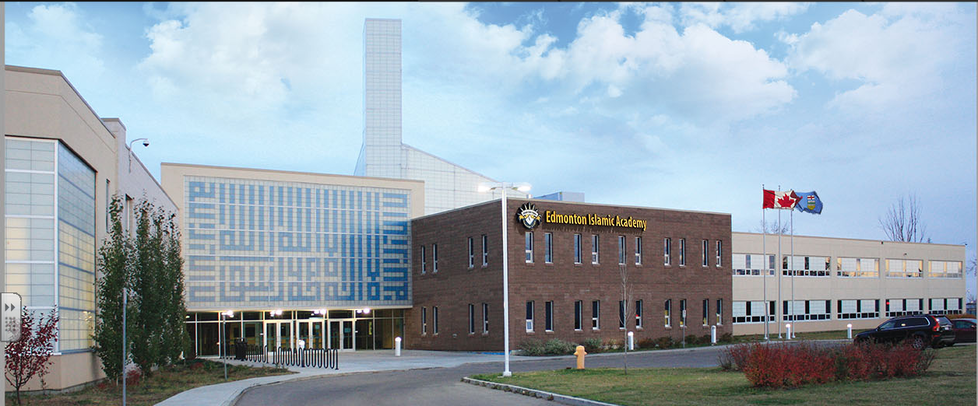 The Edmonton Islamic Academy building is owned by the Arabian Muslim Association (Canadian Islamic Center) and operated by Edmonton Islamic School Society (EISS) through a rental agreement.
Spacious Classrooms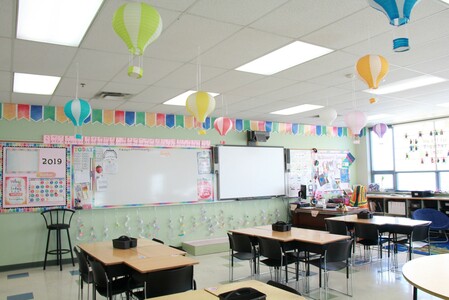 Our classrooms all feature SmartBoard technology and modular furniture. All rooms are equipped with environmentally friendly and energy efficient lighting as well as timers, energy efficient heating, kalwall, etc. Mobile Labs (Laptop Carts) allow the computers (laptops) to come to the students rather than the students having to go to the lab.  The Academy is equipped with cloud based Wi-Fi technology – ready to take on the next wave of technology.
Atrium/ Prayer Space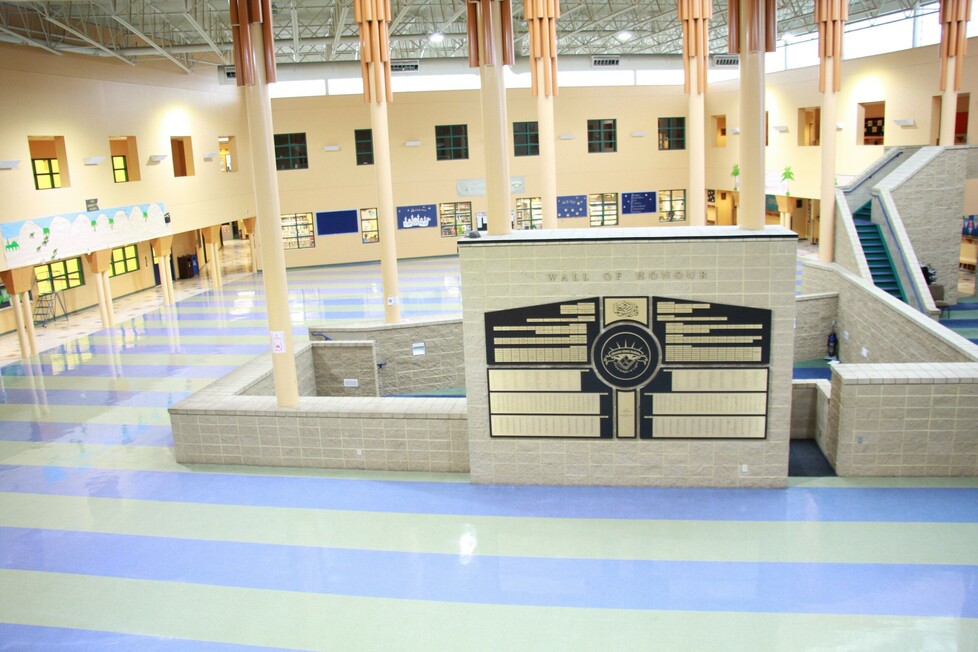 The large Atrium hosts out students for daily prayer as well as other functions.
Library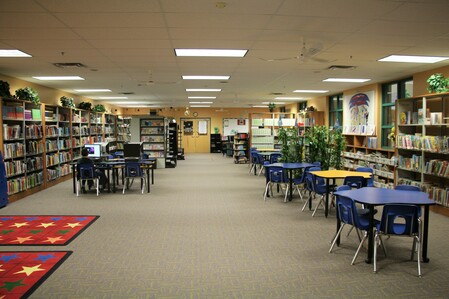 The EIA library has been expanding over the last seven years. Currently, it has over 60,000 items. In addition to general reading books, the school library has a variety of reference books and other resources. It is also a quiet place for general reading for both students and staff alike.
The library offers various academics related activities for EIA students including book fairs, book clubs, Iqra (Read) Theme, Read-in week, guest speakers from other libraries and community members. Aside from the assigned library classes, students are encouraged to visit the library daily to exchange books and work on projects, assignments and presentations. The activities should inspire students to acquire the gift of knowledge, which Allah (SWT) ordered us to do in his first words to Prophet Mohammed (PBUH), "Read in the name of your lord who created".  A  the new Young Muslim Library Corner has been added to the library which includes a collection of a wide range of over 5000 books which have been written by local, national and international Muslim authors and are applicable to students from Kindergarten to Grade 12! 
Gym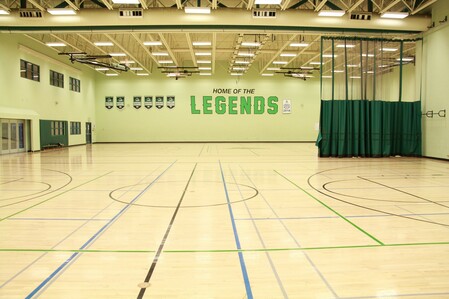 A beautiful two-court gymnasium serves for PE and athletics.  This space is available for rent, please contact Sahar Deeb at 780-909-9957.
STEAM (Science Technology Engineering Art Math) Room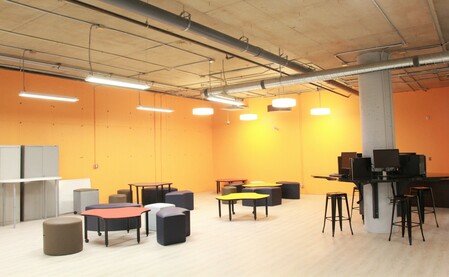 8000sqft design-centered makerspace inclusive of:
Coding center, conferencing center, photography and video center, workshop center and digital access
Science Labs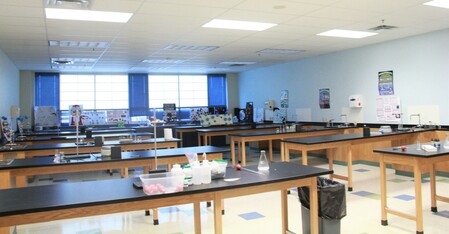 EIA's fully equipped biology, chemistry and physics labs offer opportunities for learners to conduct experiments and further their studies in the sciences. High School students enjoy priority access to these labs, and take their specialized science classes in these environments. In order for our younger learners to identify as scientists, they are also afforded periodic access to the labs to conduct hands-on scientific inquiry.
Art Studio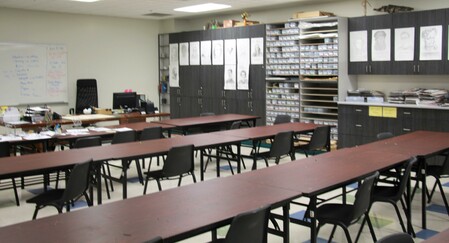 The Art Studio has a small Adobe Creative Cloud lab and a number of DSLR cameras for the creation of digital art.
Playgrounds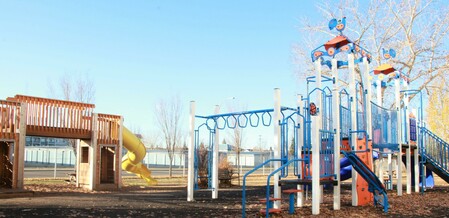 A safe and fun, outdoor playground is available to our Kindergarten and Elementary students.
School Kitchen Lab
Food studies along with other food related learning activities are conducted in this spacious and well-equipped space.
Computer Labs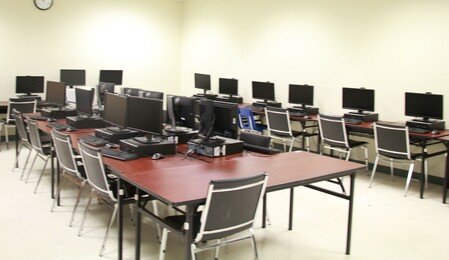 We have multiple computer labs where students continue to learn and use the most cutting software such Google, Microsoft and Abobe programs.
High School Student Lounge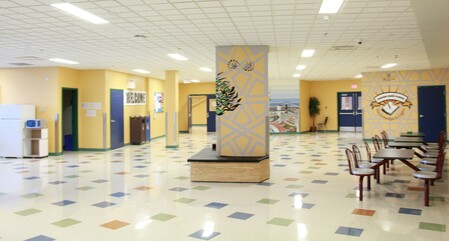 Warm, and welcoming space for high school students to study, and spend time with friends.
Cafeteria/ARCA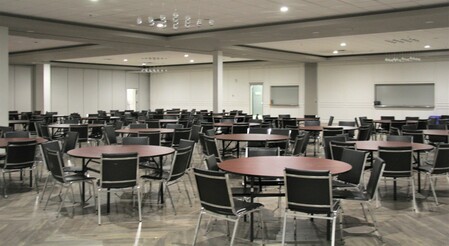 Our spacious cafeteria  provides space for student dining and community events. This space is available for rent please contact 780-909-9957.
Outdoor Track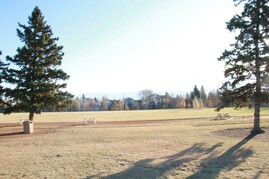 Basketball Courts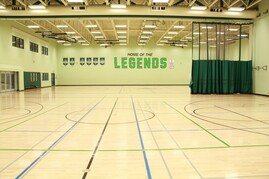 Playground