Preschool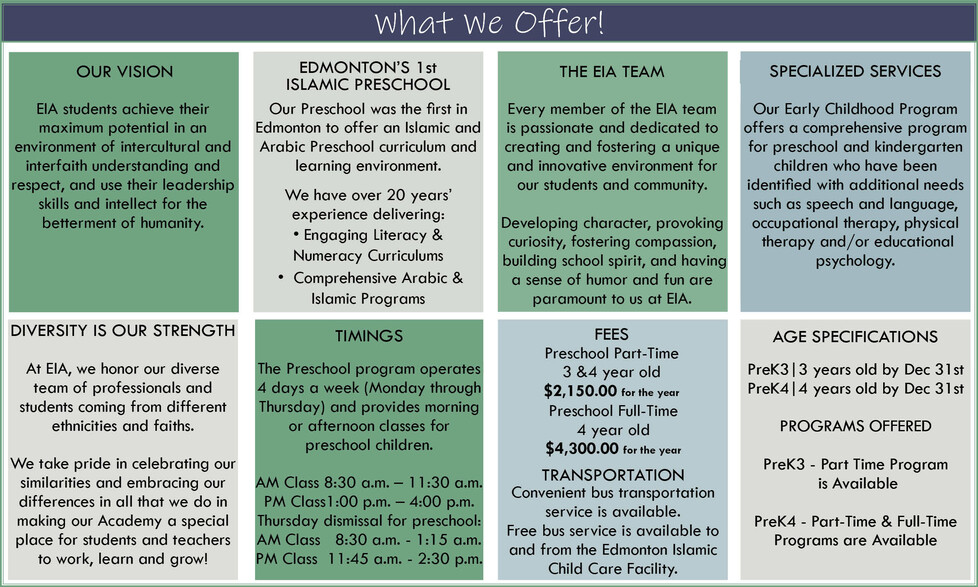 Our Preschool program focuses on the cognitive, social, emotional, and physical development a child needs to have a well-rounded education. This is done from an Islamic perspective and in an Islamic environment.  As part of our team, we have eight early childhood educators, three speech-language pathologists, and an occupational therapist working along with a certified teacher to build the program around the individual needs of the students. For more information about the program, please contact the main office at preschool@islamicacademy.ca.
The Preschool program operates four days a week (Monday through Thursday) and provides morning or afternoon classes for preschool children (three and four year olds).
AM Class    8:30 a.m. – 11:30 a.m.
PM Class  1:00 p.m. – 4:00 p.m.
Thursday dismissal for preschool:
AM Class   8:30 a.m. - 11:15 a.m.
PM Class  11:45 a.m. - 2:30 p.m.
Specialized Services
The Edmonton Islamic Academy Early Childhood Program offers a comprehensive program for preschool and kindergarten children who have been identified with additional needs such as speech and language, occupational therapy, physical therapy and/or educational psychology.  The team—teacher, speech language pathologist, occupational therapist, physical therapist and psychologist—address the needs of each individual child and provide the necessary services in cooperation with the parents.  Individual Program Plans (IPPs) are provided for each student in the Program Unit Funding (PUF) and mild/moderate learning needs.  These programs provide intensive help for each child before entering Grade One.
As part of the Early Childhood Program, Family Oriented Program Sessions (FOPS) are provided for children and their families.  FOPS are designed for families to participate in engaging and fun activities that will encourage the development of the children's speech, language and literacy skills, to foster their emotional and social growth and to improve fine and gross motor skills.  Sessions are designed to offer parents support in assisting their child's developmental and educational needs.  When parents take an active role in their child's learning, they will see great growth in their child's development.
Preschool Program Coordinator & Assistant Principal (Early Elementary)
Ms. Safiya Aden  | safiya.aden@islamicacademy.ca 
Location and Contact
13070 - 113 Street, Edmonton, Alberta, T5E 5A8
Phone: (780) 452-2761
Fax: (780) 452-1243  
E-mail: preschool@islamicacademy.ca
Preschool Gallery