International Excursions
Educational visits are a vital part of the learning experience for pupils at Edmonton Islamic Academy. Our trips are methodically planned and creatively delivered to enhance classroom learning in ways that excite and enthuse our students.  Over the course of an academic year, EIA students enjoy access to trips in each and every discipline of school life.
Trips also play a key role in developing the independence, leadership skills and
confidence of our students.
Debate Tournament & Peace Conference
Our Academy hosts multiple tournaments and conferences to cultivate a leadership environment in the school.
International Student Leadership Symposium
Each year, Grade 10 students have the opportunity to attend an International Student Leadership Symposium. The objective of offering our students this opportunity is to support students by enriching their journey as future community leaders and help them to embody the vision of education at EIA.
Symposiums feature field trips, student leadership seminars, and group projects along with many social opportunities. During the symposium, each participating school will create an action plan to take back home and implement within their school. This plan is based on the learning that has taken place during the symposium and how this knowledge can be shared to make an impact with their classmates, school, and community.
Model United Nations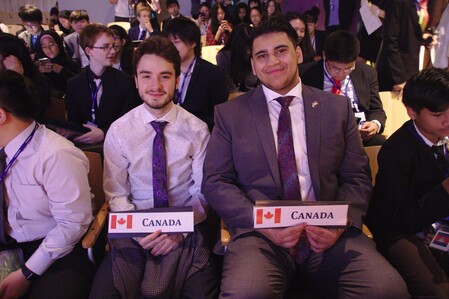 Annually, students have the opportunities to attend Model United Nation internationally. Students travelled to New York, Beijing and Bangkok in the last few years. Our successful history in the competitions is a result of in-depth and strategic simulations.
Qatar Debate
We are proud to be the only school across the entire country of Canada who provides our students with the valuable opportunity of attending this event, every two years, which is fully sponsored by the Qatar Foundation.
Umrah Field Trip
At EIA we believe in nurturing a generation of well-adjusted Muslims, all of our high school students are provided with the opportunity to perform Umrah and visit the holy places in Makkah and Madinah. This is an annual event organized and subsidized by the Academy.